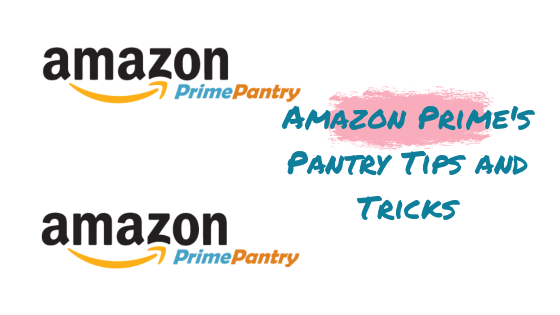 Amazon Prime's Pantry Tips and Tricks
Amazon Pantry is a Prime-exclusive service, offering Prime members low-priced everyday essentials, and here I am today offering you all the Amazon Prime's Pantry Tips and Tricks.
If you love shopping at Amazon, it's not a secret for you that can often find prices there that are cheaper than many retail stores. Not only that, you can also get free shipping if you're a Prime member and enjoy a free Kindle book and movies every month.
Because of the convenience that shopping at Amazon offers, it also cuts down on your need to go to the grocery store to buy a tube of toothpaste or laundry detergent, especially if you have to leave a crying child (or worse: take a crying child with you) or if you have deadlines staring you in the face. Luckily, Amazon offers Amazon Pantry.

Amazon Pantry is a service offered to members of Amazon Prime. It allows you to shop on Amazon to get the lowest (and discounted) prices of everyday items shipped directly to you in the comfort of your own home.
You don't need to wait in line just to buy a few items nor do you have to leave your house. With just a few clicks, your much-needed essentials will arrive on your doorstep.
Getting The Most Of Your Membership
Although shipping is free for all orders over £15,if you have 4 or more items it's a paid service so membership will cost you £3.99 a month.
Given that you're being charged every month, it's a must to get the most out of your membership to make it work for you.
If you want to save more money with Amazon Pantry, here are a few tricks and tips that you can try:

Try It Free
Are you still wondering whether Amazon Pantry is a good addition to your household? Why don't you try it out first?
You can get a free trial of 30 days of Amazon Prime that you can cancel anytime.
Use Coupons
What's good about Amazon Pantry is that you can use coupons every time you shop.
On top of the free shipping for orders over £15, you can add coupons during checkout to get more discounts. Before you make your purchase, be sure to check the Pantry Coupons page first.
5% Cashback
If you use your Amazon Store Card, you can get 5% cash back on your purchases, including Prime Pantry orders.
So now after getting free shipping and coupon discounts, you also can get 5% of the amount you paid back by using your store card.
No-Rush Shipping
Always watch out for Amazon's "no-rush shipping" promotions.
Prime members can choose slower shipping, rather than the regular 2-day shipping, and you can get a reward from the website. One of these rewards is the £5 in-store credit you can use for your next Prime Pantry order.
Clearance Section
Like the clearance rack at your favorite grocery store, Prime Pantry also has a clearance section where you can score deals and get items with rock bottom prices.
Before you fill your cart and checkout, make sure to browse the Pantry Clearance Section first.
Is It Worth It?
Yes, getting Prime Pantry is worth it. Even if you have to pay a few extra bucks to get the service, you're saving more time and stress for yourself. Plus, if you're not sure if the service is for you, be sure to start with the free trial.