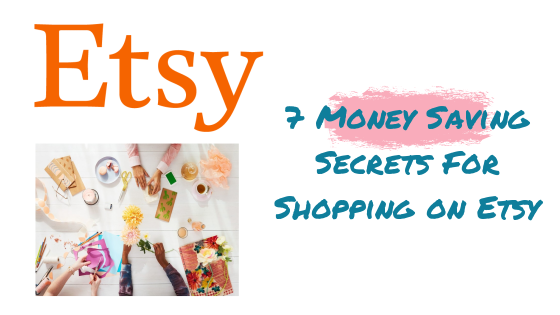 7 Money Saving Secrets For Shopping on Etsy
Check Out These 7 Money Saving Secrets For Shopping on Etsy
Decorating your home or any room in your home with handmade accessories and furnishings creates an inviting and cozy atmosphere. It also adds a sense of comfort and welcoming appeal for your family as well as your guests.
But then the real question becomes: Do you have the time, talent, or the resources to create these handmade accessories?
If you're looking for the perfect gift, journal accessory, or clothing pieces, Etsy is a great marketplace to find those. It has everything that you can think of, from party supplies to stationery, gifts to jewellery, home decorations to clothing, and more.
If you want to get started shopping while still saving money from the marketplace, here are seven money-saving secrets for shopping on Etsy.

Buy In Bulk
If you or someone you know are looking for party or wedding favors for an upcoming event, buying them individually can be costly.
There are sellers who give discounts for purchasing items in bulk. If you're buying multiple pieces, send a message to the seller and ask them if they offer bulk purchasing with discounted prices and shipping.
Use Coupon Codes
You can also save even more money by using coupons on Etsy.
Although not all sellers offer coupons, it's easy to find coupons for use on Etsy from websites like MyVoucherCodes or EtsyCouponCode.Com.
Get CashBack
Do you use Ibotta when shopping at your favourite retail or grocery stores? You can also get cash back through the app when you shop at Etsy!
You can get 2.5% cash back when you shop on Etsy through Ibotta.
Search By Price
Once you type in a keyword of the item you're looking for, you can browse by category and also by the price.
Sort from the lowest to the highest prices to see which will save you the most money.

Sort By What's On Sale
After you choose the category, you can sort by what's on sale in that category.
Instead of typing in the word sale – which can sometimes lead to things you weren't searching for – you can check a box on the website to filter and sort by which items are on sale.
Avoid Shipping Fees By Shopping Local
Shop via Etsy Local to avoid paying costly shipping fees.
To do this, enter your city on the website and Etsy will show you both the local shops and the local events within your local area.
Not only will you avoid paying the shipping fees, but by attending the local Etsy event you can also see the merchandise in person before you pay for it.
Bundle Shipping
Most of the sellers on Etsy are small and start-up businesses and they can't really afford to offer free shipping and survive.
Plan ahead and order a few items at a time. Most sellers will be happy to bundle the shipping costs to help save you money.
Etsy is a gold mine for many shoppers. If you're buying on a budget, these tips and tricks will help you save even more money.