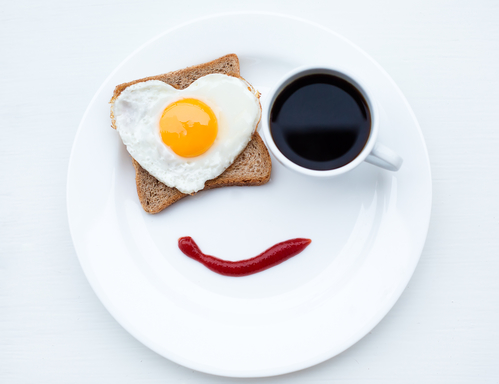 Ten Restaurant Chains That Kids Eat for £1 or Free This Summer
With the summer holidays looming and having seven hungry mouths to feed (not to mention mine and the husbands) it can be a very expensive outing if you are considering going out for a meal, but do not fear here at Big family Budgeting we have found ten excellent restaurant chains that offer a Kids Eat For £1 or Free deals, so that should save us some pennies this summer!
Also check out our post on How to save when you have a big family, for some hints and tips to save you more money!
Kids Eat Free Offers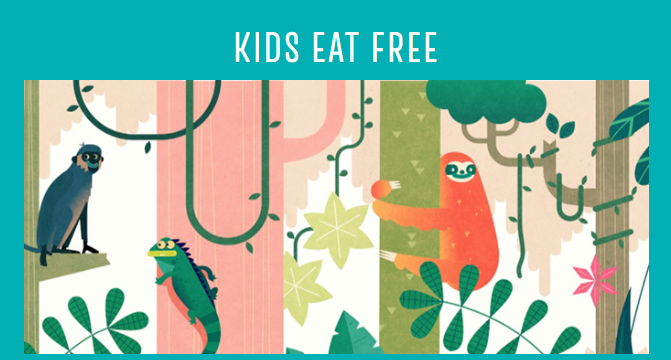 This summer school holidays 2018 each grown up ordering a main meal from the a la carte menu can claim a free niños meal which includes a main, dessert & drink from the kids menu.
The Iggy & Friends kids menu is full of favourites to keep the little ones happy, from Whacky Tacos to crunchy Cod Bites, Crazy Quesadillas to tasty Macaroni Cheese. The puds are just as yummy; who can resist wibbly wobbly jelly, churros with chocolate dip or juicy fruit.
T&Cs : Each adult ordering a main course from the a la carte menu can claim a free kids meal from our Niños menu for an accompanying child during this school summer holidays, 2018. Just mention the offer to your server. Lunch menu is not included. Cannot be used in conjunction with any other offer or discount. Not available at Las Iguanas Center Parcs or on event days at The O2, Resorts World, Cardiff Mill Lane or Wembley. We reserve the right to withdraw or amend this offer at any time
2. Beefeater – Kids Eat Breakfast Free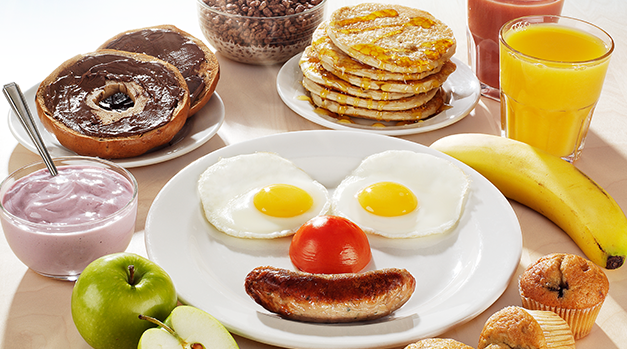 Start your day the right way with a great value breakfast at your Beefeater Grill restaurant.
Choose as much as you like from our cooked and Continental selections, including crispy back bacon, succulent premium sausages, eggs as you like them, hash browns, pan-fried mushrooms and more, alongside beautifully baked pastries, cereal, fresh fruit, plus chilled juices, tea and unlimited Costa Coffee. Don't forget – kids eat breakfast for free!*
T&Cs : Up to two under-16s eat breakfast for free when one adult orders a full Premier Inn Breakfast. Served daily until 10.30am.
3. La Tasca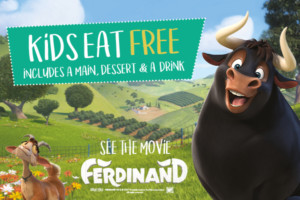 La Tasca's fabulous 'Kids Eat Free' promotion is back! And it's here to stay with the offer running all day, every single day in every restaurant. Whether guests are planning a day out shopping, visiting the cinema, museum or local attractions, La Tasca has something for everyone on the Kids Menu, even the fussy eaters!
Kids can choose from seven delicious mains including crispy chicken pieces or creamy macaroni cheese, all served with a salad and a choice of fries, peas or rice. As for the sweet treat, the choices include a warm, gooey chocolate brownie with creamy vanilla ice cream, or churros; cinnamon-sugar dusted doughnut twists with a chocolate dip.
T&Cs : 1 free kids menu per adult when spending a minimum of £10 on food per adult. Valid every day. Valid for children under the age of 12 years old.
Cannot be used in conjunction with any other offer, set menu or promotional discount including but not limited to; Tesco club card vouchers, Taste Card and Gourmet Society card.
Management reserves the right to withdraw/change offers (without notice), at any time. Subject to availability please speak to your waiter on arrival to see if this offer is valid on the day of dining, during food-service hours only.
4. Marco Pierre White Restaurants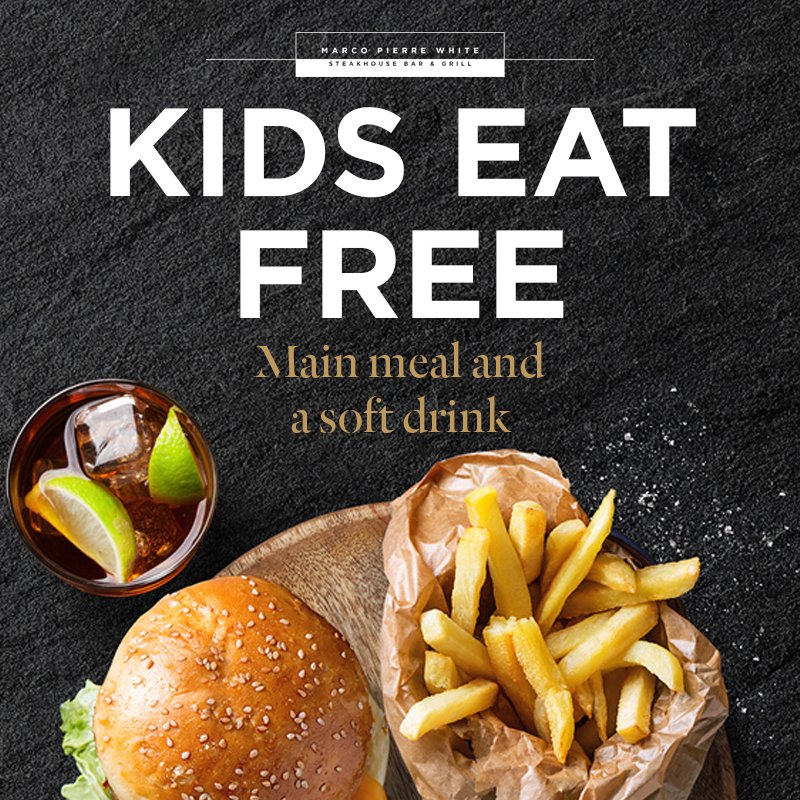 This summer, we are running kids eat free across Marco Pierre White restaurants.*
The offer applies to children under 13 with the purchase of an adult main course over the summer.
Valid from July – 31st August 2018
T&Cs :  Offer is valid from July – August 31st 2018. Children under 13 will receive a free main meal and soft drink of their choice when one adult main course is purchased from the A La Carte Menu.


When you are staying at a Holiday Inn, children can stay for free and they can also eat for Free, here are the top 5 reasons why Kids love Holiday Inn hotels
1.  Our meals are free – Mum doesn't get a bill for our food, which always makes her happy.
2. We're VIPs – When we're at Holiday Inn, everyone is treated like a VIP, even the kids!
3. We can stay for free – Sleeping in our parents' room means lots of time together.
4. We get our own special menu – We get to eat the foods we like. And order from our own special menu.
5. We can have all the fun we want – Unlike some hotels, Holiday Inn welcomes kids. It's kinda like home, but a lot better.
T&Cs : Kids Eat Free – For registered guests only. This is available for children:
a) when ordering for breakfast, lunch & dinner;
b) when ordering in the hotel's dine-in restaurant;
c) when ordering from the Kids' Menu (which must consist of at least 1 main course and 1 dessert) and;
d) when accompanied by at least one (1) adult who is registered as a hotel guest at the Participating Hotel and must order at least one main course from the full priced menu.The Kids Eat Free offer is limited to up to four (4) children per dining family, per meal OR up to two (2) children per parent, per meal.
Kids Eat For £1
Not completely free, but if your children are anything like mine, payng £1 for their meal is an absolute bargain, as they eat me out of house and home every day during the school holidays, taking them out for a meal may save my pantry for one day!

Taking the whole family out for a weekday meal at Sizzling is now even more of a treat. That's because, for every adult Sizzling meal, you'll also get a kid's main meal for £1.
With a huge range of children's dishes, we've got just the thing for even the hardest to please little monkeys – from fish fingers, to pasta, chicken wraps, pizza and quorn nuggets. There's something for all the family.
So give yourself a break and get your tribe down to Sizzling for a great meal at a great price.
Terms and Conditions
From Monday to Friday, between 3pm and 7pm, you can enjoy a kids' main meal for £1, with the purchase of every 1 adult main meal bought in the same transaction.This offer cannot be used in conjunction with our breakfast or any other offer or set menu. All food must be ordered at the same time. We reserve the right to withdraw the offer at any time.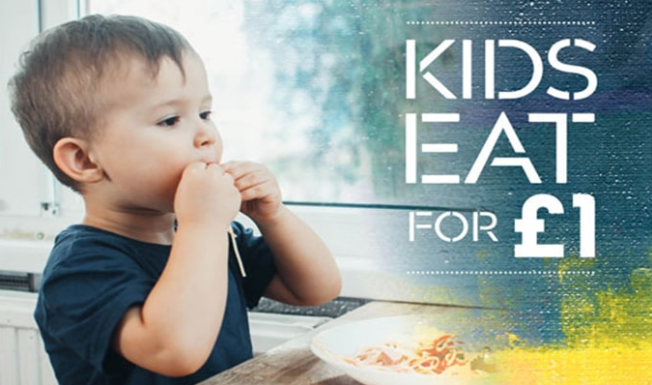 Treat the kids with all their favourites with our kids eat for £1 offer. Get your code and let your little ones feast – valid all day, every day from Friday 29th June to Sunday 9th September. To claim the offer just head over to the website (link above) and click Get Voucher its that simple
This offer is valid on both the Kids and Tot's menu – 3 courses and a drink. Simply show the code to one of our staff when you visit and we'll do the rest.
T&Cs – This unique code is good for a single use. Codes are checked against a live database and incorrect or previously used codes will not be accepted. Offer valid from Friday 29th June to Sunday 9th September 2018. Valid every day, all day. This offer is not valid at Euston, King's Cross Station, Mayfair and Northumberland Avenue. It's not valid at Edinburgh North Bridge throughout August. Wembley is excluded on event days. Children eat for £1 (€1 in Dublin) from our Kids menu or Tiny tots menu. One £1 (€1 in Dublin) children's meal per full priced main dish (this excludes our lunch: The Italian Sandwich menu). Extras will be charged at the normal price. The cheapest children's meal will be discounted first. This offer is not valid in conjunction with any other offer, discount, set menu, Tesco tokens or takeaway sales. Promoter Head Office, Prezzo Limited.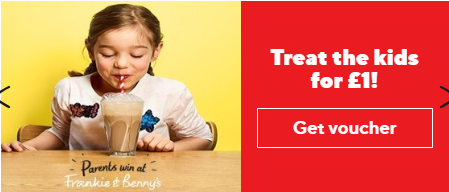 How it works
-Log in on the website or download our app
-Find the voucher you want to use
-Show it to your server, they'll sort out the rest
T&Cs – With this voucher, you and all of your table can enjoy 1 kid's meal from the Kids' menu for £1 with every main meal purchased from the Main or Gluten Free menus. • You can use this voucher from the 18th July – 31st July. • You cannot use this voucher with any other promotion or at airport locations. We can amend or withdraw this voucher at any time.
Like to eat out for less? Then come to your local Crown Carvery any Sunday (and bank holiday Mondays) and let us feed your kids under 10 for £1*.
There's no voucher to print off and bring with you. Just drop in any Sunday (and bank holiday Mondays) and choose from the great-value meals on our carvery menu*. For each adult in your party ordering a roast or pub classic meal, a child under 10 gets a smaller carvery for £1* – it's that simple.
*Excludes breakfast
10. Bella Italia
Kids eat free from our amazing Kids' Menu this summer at Bella and we've teamed up with our friends at Hasbro to bring them new games and activities, PLUS we're giving away a free magazine with every kids' meal, while stocks last*!
T&Cs
This offer entitles you to one free kids Piccolo or Grande meal with each purchase of an adult main at selected Bella Italia restaurants
•	Valid from 12 noon every day until 9th September 2018
•	Maximum of one offer code per eat-in table, valid for up to 6 guests (maximum of 3 free kids meals per table)
•	To speed up payment please show the code to your server when you ask for your bill.
•	This offer is not valid on takeaway/delivery
•	This code cannot be accepted in conjunction with any other offer, set menu, £5 breakfast menu or Tesco Clubcard Deal token.
Exclusions: 
•	Not valid at Airports, Center Parcs, Edinburgh Hanover, Edinburgh Northbridge, Inverness or London Argyll Street on any day.
•	Not valid in Bluewater Fridays - Sundays
•	Not valid in Cardiff Old Brewery Quarter on event days at the Principality Stadium.
•	Not valid in Lancaster from 16-20th July
•	Not valid in Liverpool between 9-20th July or 22-28th August
•	Not valid between 5-7.30pm at the following restaurants: London Cranbourn Street, London Leicester Square, London Irving Street, London Shaftesbury Avenue, London St Martin's Lane, London Strand and London Wellington Street. 
•	Not valid in Sheffield on event days at the Sheffield Arena.
Do you know of any other restaurants, local or national chains that are offering great deals during the summer holidays ?