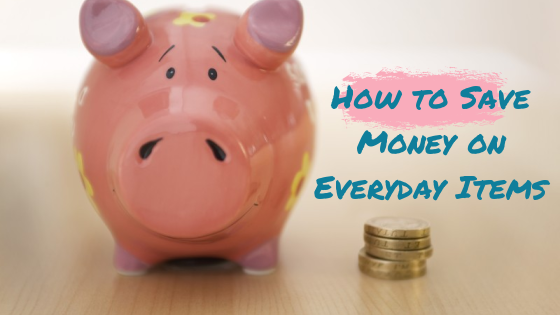 How to Save Money on Everyday Items
Have you always wanted to save more money on everyday items you purchase? There is nothing worse than paying full price for items, is there? Whether you need to buy toilet paper or stock up on bottled water, you don't have to pay full price for these items. There are ways you can save money on the purchases you make on a daily basis and here's how –

Download all the apps
Listen, the true way to save money these days is with an app. By using an app, you can look up coupons and special deals. This beats opening up your computer and printing off coupons. Before you walk into a store, make sure you have the app downloaded and a plan in place. Every restaurant has an app these days, it's incredible. Whether you want to add up your points at KFC or see the daily deals with the pouch app, you just can't go wrong. Also check out Top Cashback to earn money and discounts whilst you shop

Look for markdowns
Everyday items are marked down from time to time. One of the best ways you can save money on these items is to look for markdowns. All of the major supermarkets mark down their produce towards the end of the day. There is still plenty of life left to it, but you save money on it. Just make sure you use it up in time or else you're losing money. Check out Approved Food for short dated products, we especially like the offers on bottles and cans of drink, and also lots of chocolate and crisps!
Go to the Pound Shop
Does it make sense to shop elsewhere for an item, when you can find it right at the Pound Shop? Probably not. Some of you shop at Poundland where everything's a pound and this makes the most sense. Anything you'd pay top prices for, you can literally find at the Pound Shop/ Poundland. You can save money on everyday items by shopping at these stores!

Wait for them to go on sale
Everyday items are things you know you will need, so why pay full price? Most grocery stores do awesome sales on these items to get you in the door and to real you in with buying their other products. Waiting for these products to go on sale is brilliant! You save money by stocking up while they're on sale. I am a huge fan of Amazons Subscribe and Save and get toilet rolls, teabags and haircare sent every month, in our household these are definitely the essentials!!
Saving money on these everyday items isn't always easy. You almost have to plan ahead! However, with the right plan and the ability to think ahead, you'll be able to save money on everyday items, instead of paying a fortune for them.
For more ideas check out How To Save When You Have A Big Family