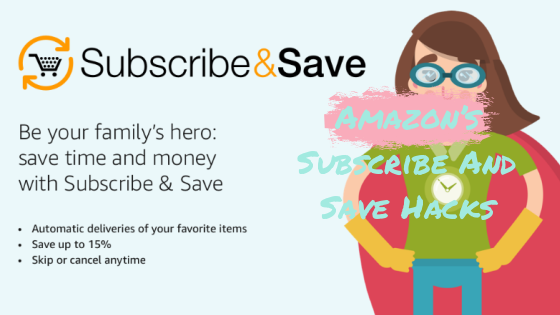 Amazon's Subscribe And Save Hacks
Have you always wanted to know all the Amazon's Subscribe And Save Hacks, well read on to find out the answers! There's a reason that Amazon is one of the top websites around the world. You name it and Amazon has it. Plus when you factor in the cost of gas and your time to shop elsewhere, it's comparable or even cheaper to shop there than it is to shop at your local store.
Although shopping at Amazon can save you time and money, if you purchased everything that catches your fancy at Amazon, it will definitely take a toll on your wallet, especially if you're on a budget. If you are new to Amazon Subscribe and Save check out Your Guide To Amazon's Subscribe and Save
Whether you're a smart shopper or a shopping addict, you'll want to save as much as possible every time you place an order through Amazon. One way to do that is to subscribe to Amazon's Subscribe and Save Program.

With Amazon's Subscribe and Save you can order products you use every day to be delivered each month on a set basis and save money doing it. You'll receive your orders on the schedule you choose from monthly up to every six months and you can get extra discounts, too.
Even More Savings
Depending on which items you subscribe to for your orders, you can save from 5 to 15 percent off every order. However, if you want to save even more, here are some Amazon Subscribe and Save tips, tricks, and hacks that you should know and use.
Well, you can utilise a filter to get a range of discounts. Whenever you make a search for items on Amazon, you can readily add certainly code to the end of the URL, which in return brings only the results for discounted items. Yes, Amazon is the ultimate shopping spot, continue shopping and try this discount calculator to know the amount that you saved on every single item.

The Five Item Rule
You'll automatically get the full 15 percent discount on each order when you order 5 or more items in a single month to be delivered to the same address.
Don't make the mistake of just ordering 2-3 and not getting the full discount. Adding extra items in your shopping cart means you can save even more money.
If you order 5 or more items worth £50 in your Subscribe & Save order, you'll get a £7.50 savings (with the 15% discount).

Use Coupons
Whether you're buying a one month supply of disinfecting wipes or a bundle of your favourite soap, the cheapest way to get them is by using an Amazon clickable coupon and by ordering 5 or more items.
That means you can apply the coupon to your order as well as the 15% discount for ordering 5 or more items.
Keep in mind that Amazon coupons are good for one-time use only.

Prime And Family
There are certain offers and coupons that are only available for subscribers of Amazon Prime and Amazon Family.
If you're not a member and you'd like to be, but you don't want to pay for the membership upfront, you can try their 30-day free trial to see how the program will work for you and your family.
Plus, if you're a Prime Member and you have kids, you can take advantage of Amazon Family and get up to a 20% discount on baby products, baby food, nappies, and more items.
Is the Amazon Subscribe and Save Program worth a try? Yes, it is, especially if you buy the same items every month. After all, the shipping is free and it's delivered straight to your doorstep which gives you more time and saves you gas, so you're not wasting money.

If, like me you have older children that are away from home but love to order items from Amazon or take advantage of Prime, there is a specific membership just for them, Prime Student has a FREE 6 month trial and then £3.99 per month after that time, for up to 4 years or when you graduate (whichever is sooner).